Bio Humic Miracle (100ml)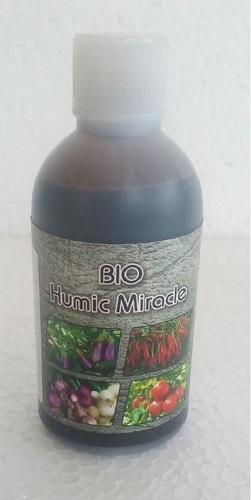 Bio Humic Miracle (100ml)
Price And Quantity
100

Milliliter/Milliliters
Product Description
Bio Humic Miracle
Bio Humic Miracle is solidified concentrate
to supplement humic acid released by organic matter. It is very complex mixture of organic constituents of which major ones are humic acid, fulvic acid and potassium. One kg of this product is equivalent to about 7 tonnes of organic manure. It increase the crop yield by 30-70%.
Dosage
Soil Application
It is applied on the soil after the basal dose fertilizers before planting or otherwise after planting. Disslove 2-3 kgs in 500 litres of water and apply on the soil in once acre.
Foliar Application
Dissolve 2 Kgs in 300-500 litres of water and spray over one acre to the point of runoff.
Seed Treatment
Prepare a solution by dissolving one teaspoon of Bio humic Miracle in 1 litre of water and soak seeds for one hour or until the seed skin is prenetrated and then sow immediately.